EXPERIENCE THE MAGIC OF DRUMMING!
Join us for our 2018 Summer Session - Registration opens May 25 AND our Summer Session starts on June 24, 2018!
When registration opens, there will be NEW Course Pages - with all the details you need to sign up!

Please join our Mailing list below to be notified when program opens (with special early bird discounts!)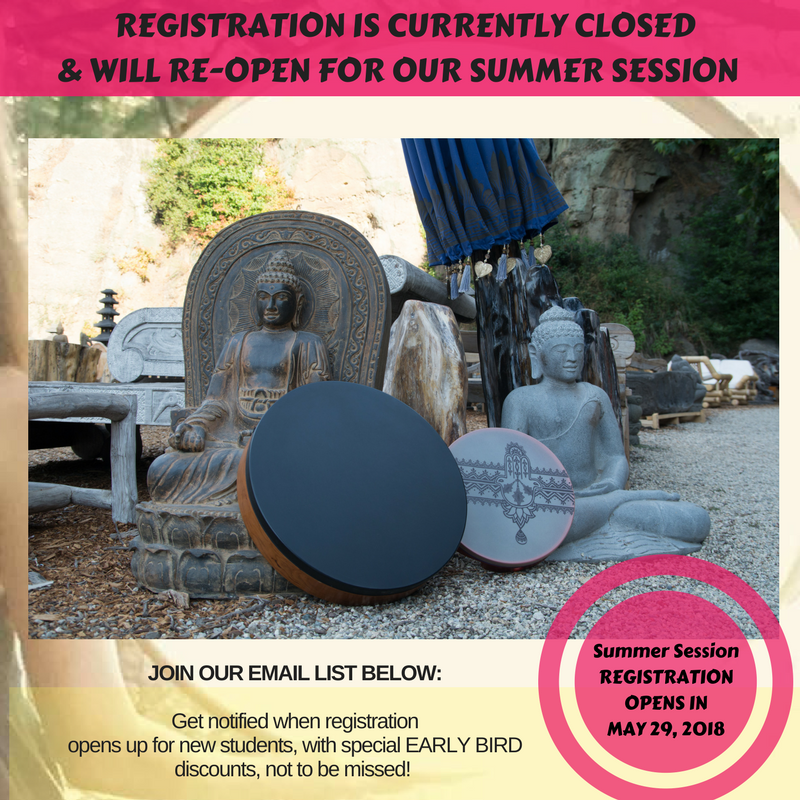 2018 COURSE PROMO VIDEO -
FEATURING OUR RECENT GRADUATES!
Watch & Get Inspired!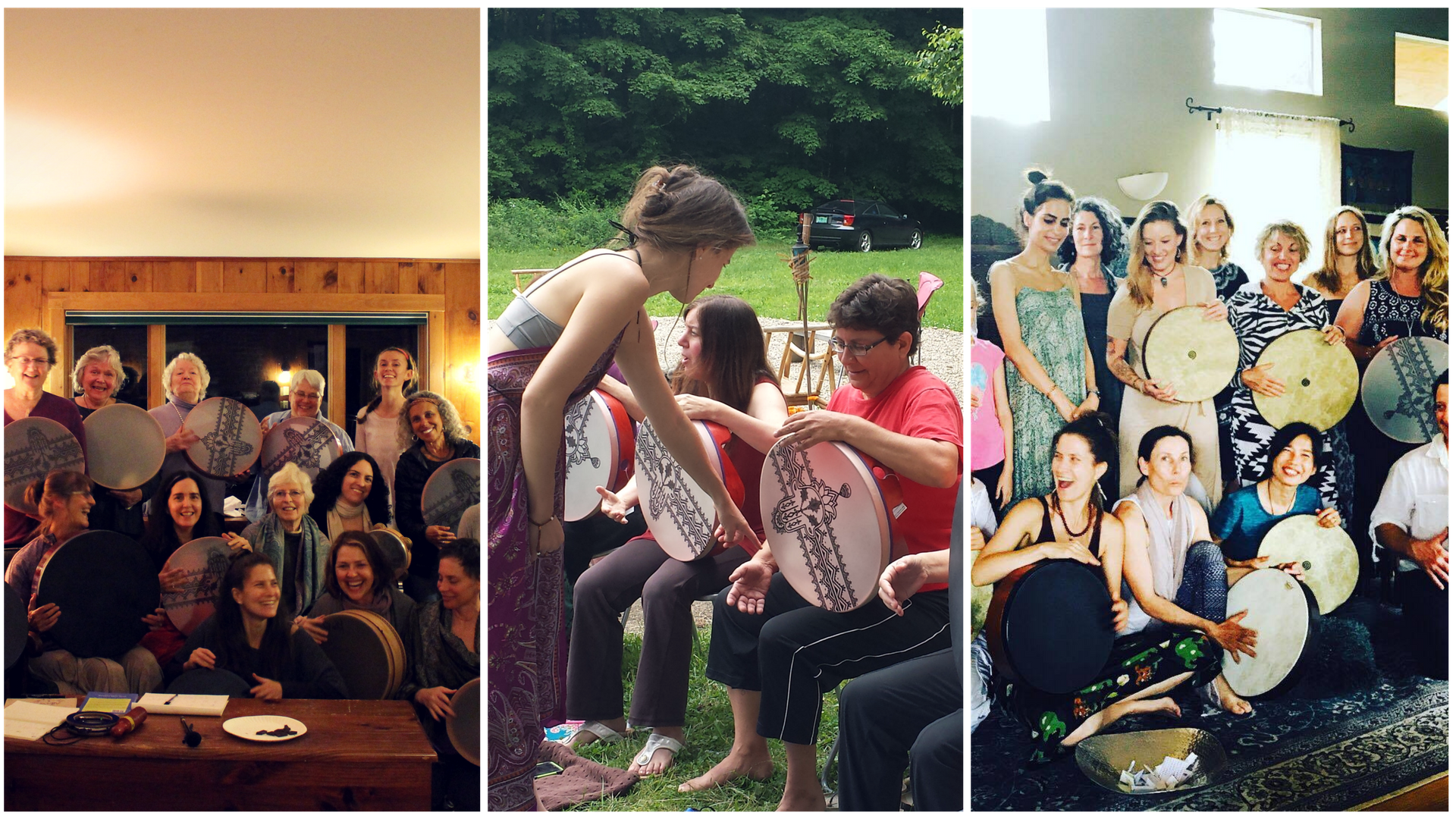 EXPAND YOUR PRACTICE & INTENSIFY YOUR LEARNING EXPERIENCE!
CONGRATULATIONS!!!
If your'e reading this, you must have had some experience playing the frame drum AND ARE WANTING TO......

Learn Extended Playing Techniques & How to Combine these Techniques with Ease, into Groovy Traditional and Original Rhythms & Compositions.

Play, Improvise and Compose EASILY in ANY Meter!

Overcome your "Stage Fright" & SHARE your Drumming Talents!


TRANSFORM your Relationship with the Frame Drum & Empower yourself to use this instrument for Performing, Drum Circle Facilitation, Personal Healing or whatever your Rhythmic Muse may Call Forth.




FRAME DRUM 202

LEARN THESE EXTENDED TECHNIQUES & ESCALATE YOUR PLAYING SKILLS!
ABOUT THE PROGRAM:
Frame Drum 202 is designed for the student who has had at least one year's playing experience. This student is also familiar with the basic playing strokes (doum, tak, ka and pa), and and a few extended techniques (single and double snapping, basic finger rolls,) in the three respective playing styles (lap style, upright, and free- hand).
The program features a vast library of around 100 instructional videos, divided into four modules. Each module is a month's long offering. (see course curriculum below)
Module #1, #2 and #3 teach the frame drum technique in the three distinct playing styles; lap style, upright and free-hand.

Module #4 covers Solkattu, Improvising and Indian Rhythm Theory. If you do not have any experience in these topics, rest assured, we have you covered. As a bonus to this program, we have included the basic Solkattu videos from the Frame Drum 101 Program. These instructional videos will provide the necessary foundation to enable those students who may be unfamiliar with the material to effectively participate in the program.

INSTRUCTIONAL VIDEOS ARE YOURS TO KEEP FOR LIFETIME!!!



IS FRAME DRUM 202 A GOOD FIT FOR MY PLAYING LEVEL?
If you are unsure whether you belong in Frame Drum 101 or Frame Drum 202, please:

Review the course curriculum below. If you DO NOT know most of the topics, it is suggested you take Frame Drum 101. Why? Frame Drum 202 builds upon techniques covered in Frame Drum 101. It is VERY important to a have competence in the topics covered in Frame Drum 101 before graduating to the next level.
If you have some experience playing, and know MOST of the techniques mentioned in Frame Drum 101, but not all of them, it is suggested you take Frame Drum 202 - and further enroll in either the Gold or Platinum Membership Level Program - which include private lessons with Marla - to get you caught up!
Marla will also briefly go over some of the extended techniques taught in Frame Drum 101 during the Frame Drum 202 Videos. You can also ask specific questions during the Live Q&A Sessions.
All graduates of Frame Drum 101 qualify to take Frame Drum 202!
If you need any further help deciding which program is best for you, please contact Marla.
"The object of education is to teach us to love what is beautiful" -- Plato
---

BENEFITS OF TAKING FRAME DRUM 202 INCLUDE:
Truly deepen your existing practice in frame drumming. After completing the Frame Drum 202 Program, you will be playing and understanding music at an Intermediate Level!
Learning how to play, improvise and compose EASILY in ANY Meter!!! You will be able to play and improves in any meter, however intricate or overwhelming those cycles may initially sound.
Gaining the competence and confidence necessary to share your drumming in various applications, such as: leading a Drum Circle/Gathering, for use in your professional coaching/healing practices, playing in an ensemble, for sound healing, composing music, or simply for your own personal practice and enjoyment .
Developing a solid personal drumming practice routine that will help nourish you both musically and spiritually. Having completed this courses, students will have an established practice that will remain with them for a lifetime.
Learning how to care for your frame drum (tuning, size/pitch, cleaning, etc...)

==> GRADUATING HOMEWORK <==
As a graduation assignment for this program, it is suggested that students schedule an event at which they will share their newfound skills & drumming magic (i.e. teach a workshop, guide a drum session etc..). Though this is not a requirement, it is highly encouraged as the experience will undoubtedly be magical and will assist in growing your craft and your self.

---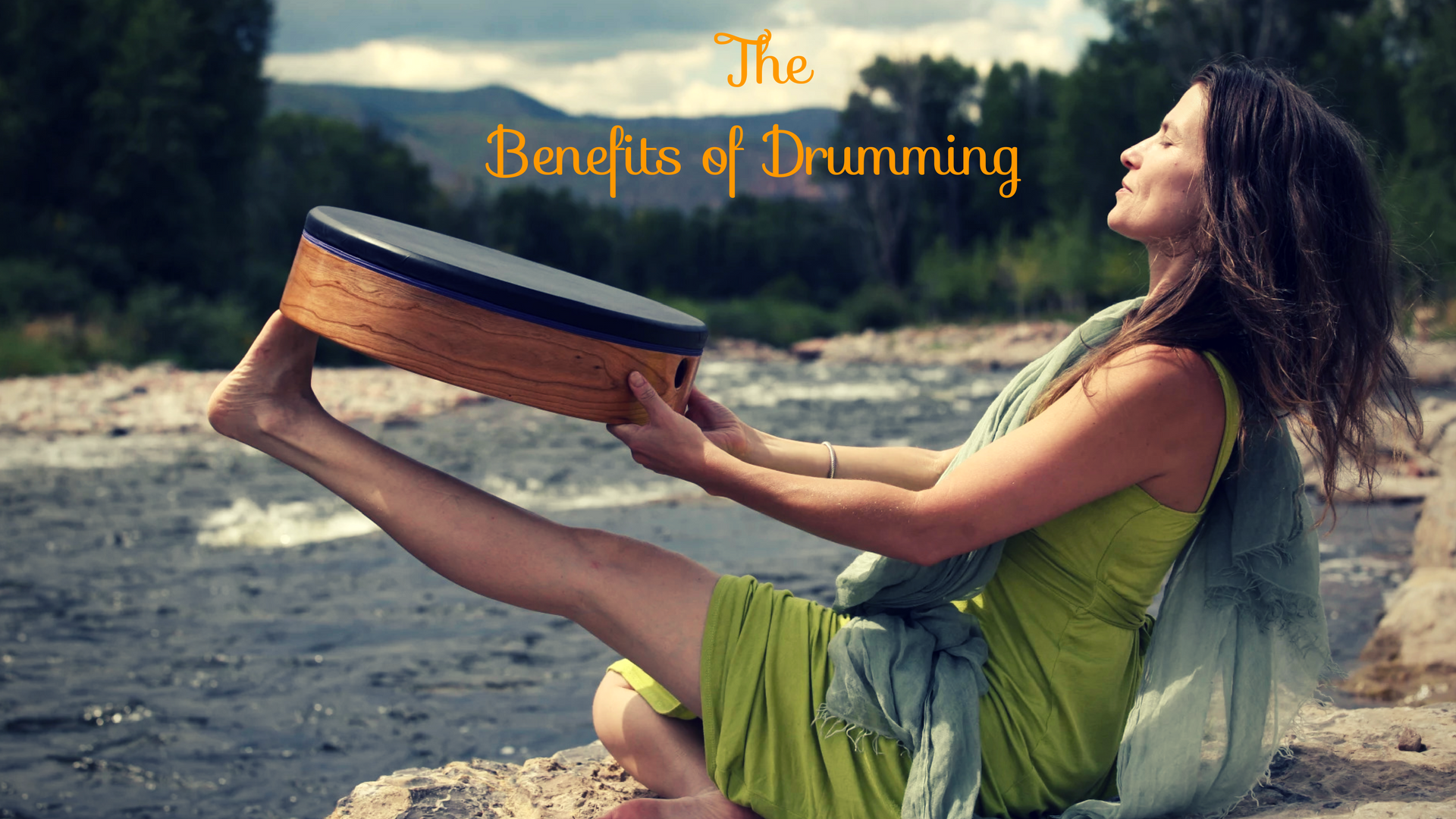 SOME OF THE MANY HEALTH BENEFITS OF DRUMMING ARE:
Drumming improves the aerobic and cardiovascular systems.
Drumming strengthens the immune system.
Drumming reverses the ravages of stress at the cellular level.
Drumming reduces anxiety and depression.
Drumming is a wonderful tool for meditation and an excellent means to access high realms of consciousness.
Drumming is the "happy" drug - it reduces negativity!
Drumming puts you in the present moment, demanding a focused one-point attention.
Drumming produces synchronized brain wave activity - like "fish oils" for the brain - it helps keeps the brain awake and alive.
Through entertainment, drumming induces a natural altered state of consciousnesss, putting you in deeply meditative, relaxed "theta" state.
Drumming helps people perform better in math, English and motor skills.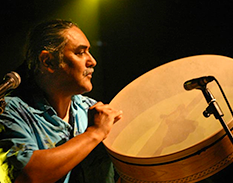 "I consider Marla to be the one of the very top percussion performers in the US of today. She is well known in the percussion community for her performance virtuosity and artful skill with hand drums"
Glen Velez, 4 Time Grammy Winning Percussionist, Marla's Mentor


PROGRAM INCLUDES:
ANYTIME Access to a vast library of over 100 educational videos. These videos will guide you from start to finish on how to be a creative, confident and skillful frame drummer.

BONUS MODULES will ensure that you learn all you can about this incredible art form.
FOUR MONTHS OF GUIDED INSTRUCTION (Program starts February 6, 2017 and ends on May 28, 2017).
You have access to the videos for LIFETIME!




MODULE LAYOUT
MODULE 1 - Free Hand Style Frame Drumming
MODULE 2 - Lap Style Frame Drumming
MODULE 3 - Upright Style Frame Drumming
MODULE 4 - The Art of Improvisation, Solkattu and Indian Rhythm Theory.
WHATS INCLUDED IN EACH MODULE:
Videos are yours to keep for LIFETIME!

There are Four Modules included and each module

is one month long.

There are Three Video download series in EACH Module.

Every Video download series has around 6 -15 videos.

Video downloads will be shared on this website on the specific dates mentioned in the "Video Schedule" below.
LIVE Q&A CALLS:
MARLA'S PRIVATE STUDENT FACEBOOK GROUP:
You will have access to Marla's private student International Facebook group!

This Facebook group is a SUPPORTIVE online community where you can meet like-minded drumming friends from around the world, share ideas, questions and offer feedback.



FRAME DRUM 202 CURICCULUM
Please note this is just an estimate of the amount of videos that will be in this program. Marla will be recording the videos as the program is running and may be inspired to add another video, or two, or five..

==> VIDEOS ARE YOURS TO KEEP FOR LIFETIME!!! <===


MODULE 1 - FREE HAND STYLE
LESSONS SERIES #1
TOPIC: 6 + 8 Beat Finger Roll Combination Patterns using Foot Bells, Speed Changes, and Solkattu.
VIDEOS: 10 videos in this module.
LESSON SERIES #2
TOPIC : Intro to Turkish Split Hand Technique
VIDEOS: 6 Videos in this Module.
LESSON SERIES #3
TOPIC : Combining 6 & 8 Beat Finger Roll Patterns & Turkish Split Hand Technique with Foot Bells, Speed Changes and Solkattu.
VIDEOS: 8 Videos in this Module.
MODULE #2- LAP STYLE
LESSON SERIES #4
TOPIC : North Indian split-hand "tete" technique.
VIDEOS: 5 Videos in this Module
LESSON SERIES #5
TOPIC: Combining Patterns using Jazz Rolls, Split Hand Technique and Solkattu Phrasing with Foot Bells!
VIDEOS: 6 Videos in this Module.
LESSON SERIES #6
TOPIC: Become a Snapping Rockstar: Double, Triple and Quadruple Snapping Technique & Practice Rhythms
VIDEOS: 6 Videos in this Module
---
MODULE 3: UPRIGHT STYLE
LESSON SERIES #7:
TOPIC: 8 Beat Finger Roll Techniques & Practice Rhythms integrating Solkattu, Foot Bells and Stepping Patterns
VIDEOS: 8 Videos in this Module
LESSON SERIES #8
TOPIC: 6 Beat Finger Roll Techniques & Practice Rhythms integrating Solkattu, Foot Bells and Stepping Patterns
VIDEOS: 8 Videos in this Module.
LESSON SERIES #9
TOPIC: Combining 6 +8 Beat Finger Rolls in Odd Metered Practice Rhythms integrating Solkattu, Foot Bells and Stepping Patterns
VIDEOS: 12 Videos in this Module.
MODULE 4: Improvisation, Solkattu & Indian Rhythm Theory
LESSON SERIES #10
TOPIC: Introduction to Solkattu & Tihai in 4-Beat Time Cycle with Practice Exercises
VIDEOS: 8 Videos in this Module
LESSON SERIES #11
TOPIC : Introduction to Solkattu & Tihai in a 5-Beat Time Cycle with Practice Exercises
VIDEOS: 8 Videos in this Module
LESSON SERIES #12
TOPIC : Introduction to Solkattu & Tihai in a 7-Beat Time Cycle with Practice Exercises
VIDEOS: 8 Videos in this Module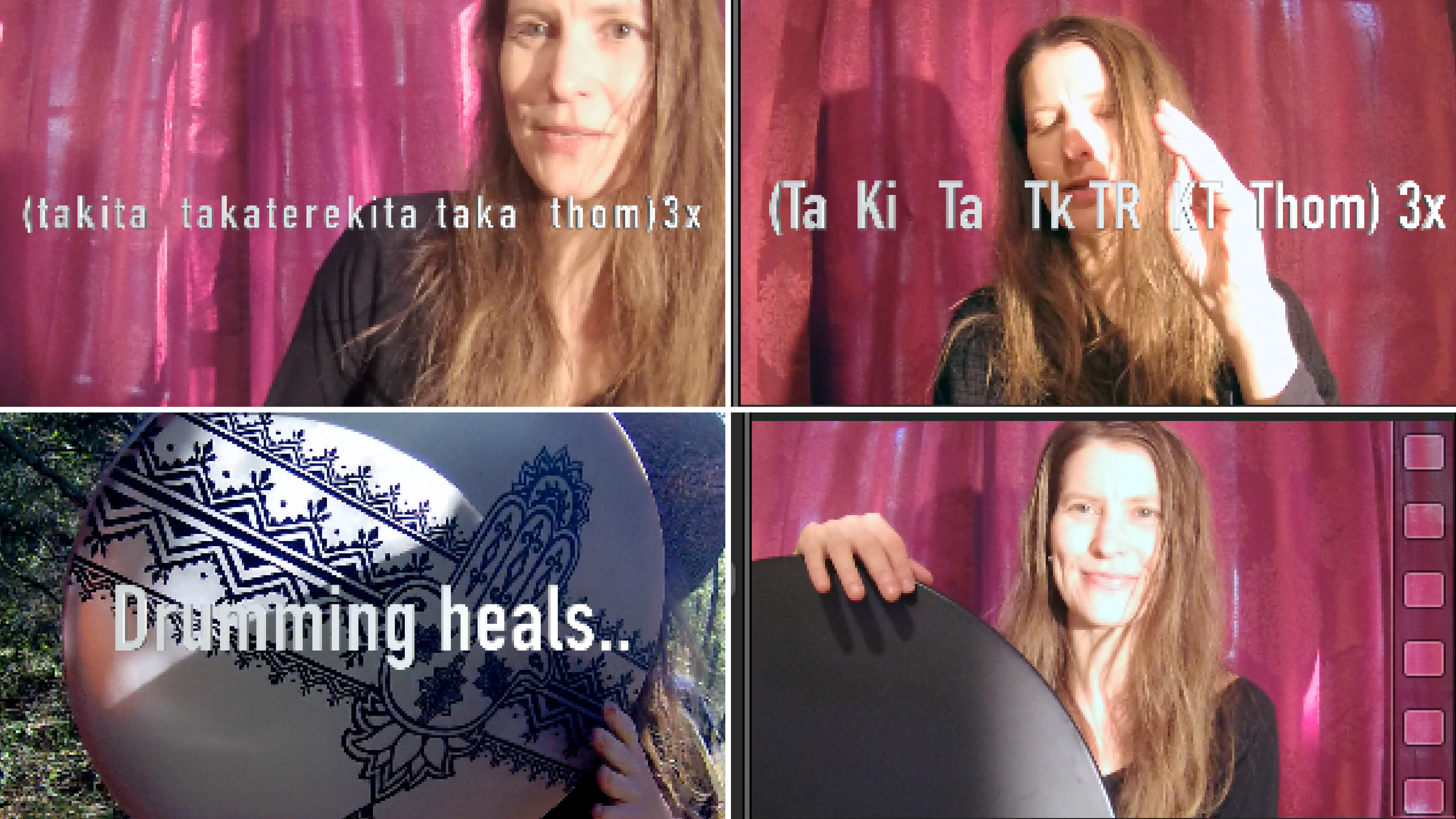 SCENES FROM THE INSTRUCTIONAL VIDEOS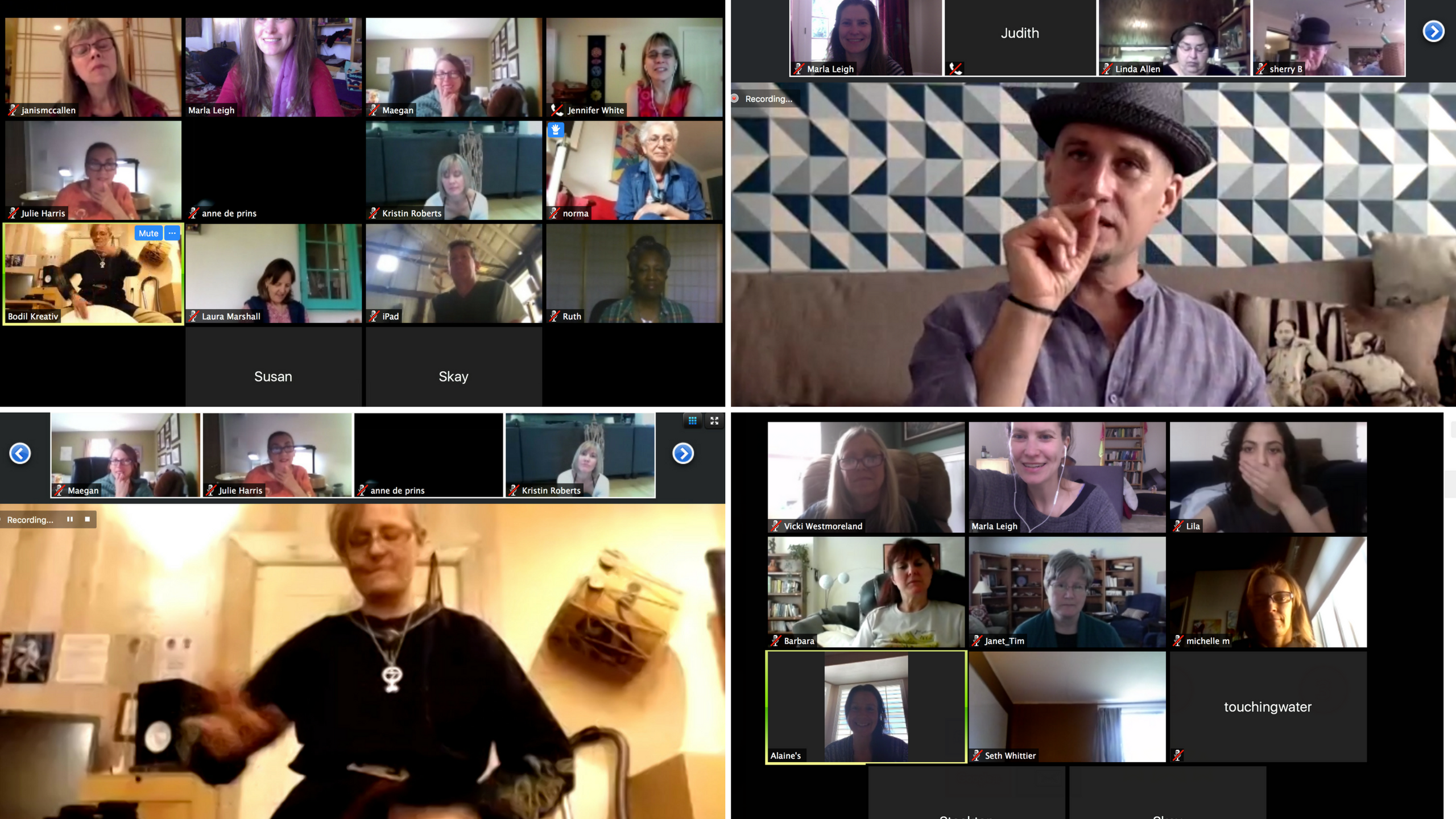 SCENES FROM OUR LIVE Q&A CALLS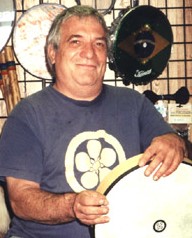 With her background and dedication, Marla is well positioned to make a significant contribution to world music in general, and frame drumming in particular

John Bergamo, Marla's Mentor, Percussion Director Calarts,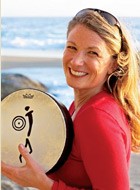 "Marla is world -renowned and has taught students worldwide through workshops, retreats and also online. A talented artist, she is anchored in beauty, love, and devotion! I highly recommend her."
Christine Stevens, author, Music Medicine, The Healing Drum Kit
Here's what Marla's students are saying

"I went from not playing a musical instrument at all to drumming for my yoga classes in a couple of months. Not only has Marla and her Frame Drum Academy turned me into a musician; but I also have increased my confidence, my desire to share my talents with others, and my passion for music and rhythm. I cannot recommend this program enough!"
Meaghan Beishline, Pennsylvania

"I love studying with Marla. She is pure inspiration. Her Frame Drum Academy is super accessible and filled with tons of great learning. I The way Marla teaches frame drumming is all about body brain and soul! Lots of soul!"
Marilyn McLaughlin, Los Angeles

"Joining Marla's Frame Drum Academy pushed me through the boundries – I now practice strokes in three different styles. It gives a lot more opportunities to combine with my songs.
Bodil Kreative Jorgenson, Finland

"Marla's enthusiasm and heartfelt commitment to her students shone through every aspect of the program. The instructional videos were very clear and I love having lifelong access to the them."
Janis McCallen, Ontario, Canada

"Marla is the most wonderful teacher!! Everything is completely accessible and she breaks down the lessons so perfectly."
Emma Kitchen

"Amazing detail & easy to follow.Highly Recommend. I was hesitant about how much I could learn online, but was pleasantly surprised how worthwhile the course was in improving my technique & playing."
Jennifer Thomas, Sydney, Australia

"Marla's teaching is excellent and opened up so much for me."
Susan Freeman, Ohio

"I have been so impressed with Marla's detailed, easily-digested online lessons that lead the student step by step through frame drumming and practice techniques. I highly recommend the Frame Drum Academy Online."
Linda Schineder, Ohio

"I participated in Marla's brilliantly presented Frame Drum 202. I work with the videos on a regular basis to learn new concepts and to refresh myself on more familiar techniques - Yet I have barely scratched the surface of the volume of techniques presented. I give this program 5 stars. No one has ever done anything this important for us who crave to learn this material."
Norma Kaplis, New York

"AMy experience with the Frame Drum Academy 101 and 202 has been amazing. The online courses are clear, easy to follow and a master class of technique and basics of frame drumming."
Sherry Belliveau , Florida
---

VIEW OUR FRAME DRUM ACADEMY STUDENT YOU TUBE CHANNEL
Subscribe & Stay Inspired! Watch other students drum!

JOIN HERE==> https://www.youtube.com/channel/UCK7J6MMXA1ERJ2R2g...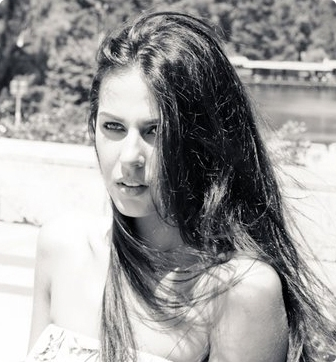 "I was hesitant to sign up as I had no experience, but I did know I loved drumming. I took a chance and enrolled in Marla's Platinum level training Frame Drum 101 program and fell in love with the frame drum. The one on one attention really helped me and I now lead a frame drum circle in London Highly Recommend this program!"
-Sarah Brewersting, London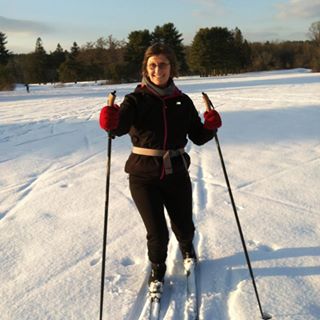 "Do it! I took Frame Drum 101 last year, and just now went back to practice videos. was newly in awe at the material you so kindly gave us, Marla. It's so helpful to have videos to practice with. I liked that each was short which adds simplicity to practice, especially when I only have a short time to play. Also newly struck by creativity in the videos and their playful nature, and how generous Marla is with the material she presents. Looking forward to frame drum 202"
-Ann Marie Polanski, Maine
Your Instructor
Marla Leigh Goldstein is a Grammy-nominated Percussionist and Flautist. She is one of the few female frame drum specialists in the world.


Marla is an internationally recognized educator and performer who has presented throughout the USA, Canada and Europe. She carries the gift of being an inspiring and energetic educator, and soulful, charismatic performer. Marla offers online learning programs, as well as workshops, retreats and clinics and concerts world wide.


Marla endorses Cooperman Frame Drums and has collaborated with them to create an Artist Innovation Series Drum - "The Marla Tar". She is also CEO of Frame Drum Online Academy, and online resource for learning frame drumming.

As a passionate and dedicated composer, Marla's original music has been featured in movies, commercials, and healing arts media products. She is currently working on writing music for her debut world music meditation album.


Marla's Training Includes:
Bachelor of Fine Art in Music from California Institute of the Arts

Master of Fine Art in Percussion from California Institute of the Arts


Percusison Teachers: John Bergamo, Glen Velez, Pandit Swapan Chaudhuri, Poovlar Srinivasaan, Alfred Ladzekpo, Kobla Ladzekpo, Randy Gloss and Layne Redmond.
Gratitude to Marla's Drum Teachers!
(From L to R: John Bergamo, Glen Velez, Pandit Swapan Chadhuri, Poovalur Srinivasaan, Randy Gloss, Layne Redmond)


This course is not open for enrollment.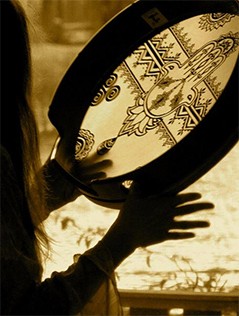 FRAME DRUM SIZE RECOMMENDATION &
COOPERMAN SPONSORSHIP

If you were to have only one drum for this program, Marla recommends a 16" drum. This is a perfect size for playing in the various playing styles.
Other sizes will be fine for the program, but your hands may hurt if your playing a bigger diameter drum in the upright style (20"-22"), and the sound will be as resonant if you play a smaller drum in the lap free hand styles!

Here are the suggested drum sizes and playing styles:.
14"-16" " Drums - Upright Style.
16"-22" Drums - Lap and Free Hand Styles.
Cooperman Drums is our sponsor for this program. Of course, its not essential you play a Cooperman drum for the program, but they are the recommended drums to play! All students enrolled in this program can receive 10% off any frame drum from Cooperman Drum Company (Thank you Cooperman).
Marla is in endorsed artist with Cooperman and has collaborated with them to create a Artist Innovative Series drum called The Marla Tar. You can visit Marla's suggested drums for this program at this link. In the welcome email for the program, you will receive the discount code for purchasing a Cooperman Drum at 10% off.
Other brands of frame drums are fine for this program too.
(ie Remo, Meinl).