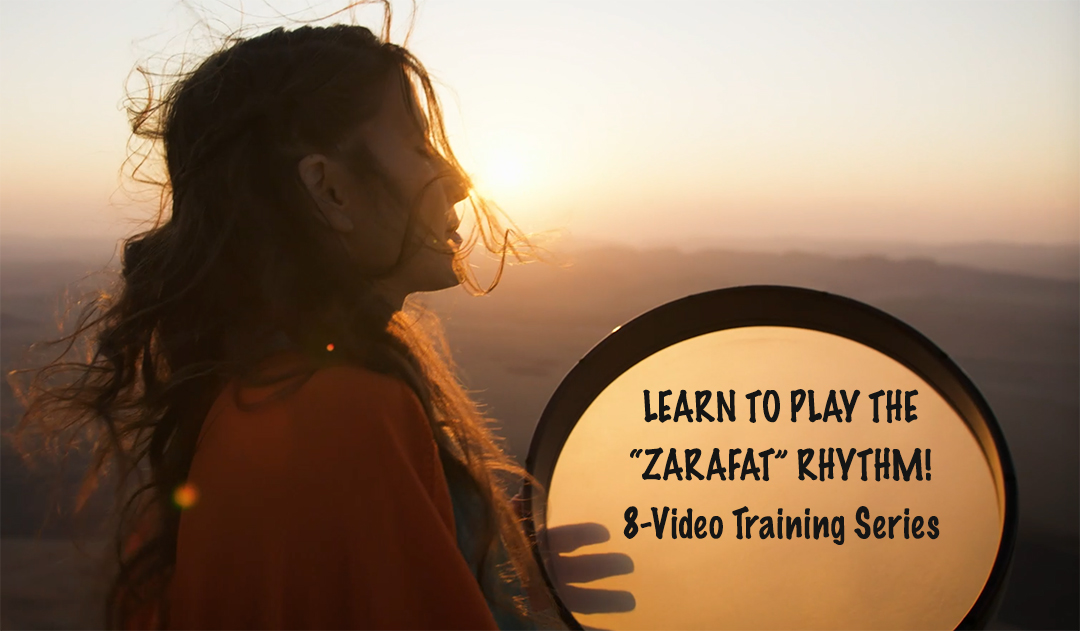 ABOUT THE " ZARAFAT" RHYTHM
Zarafat is a traditional Arabic rhythm that is part of a suite of longer Arabic rhythms used in old-style poetry.
Zarafat is in a 13- beat time cycle.
The rhythm is taught in a 26-beat time cycle in this training, so the student can get a better understanding of the rests in the rhythm.
Long time cycles = Entrainment. Trance. Deep Groove
---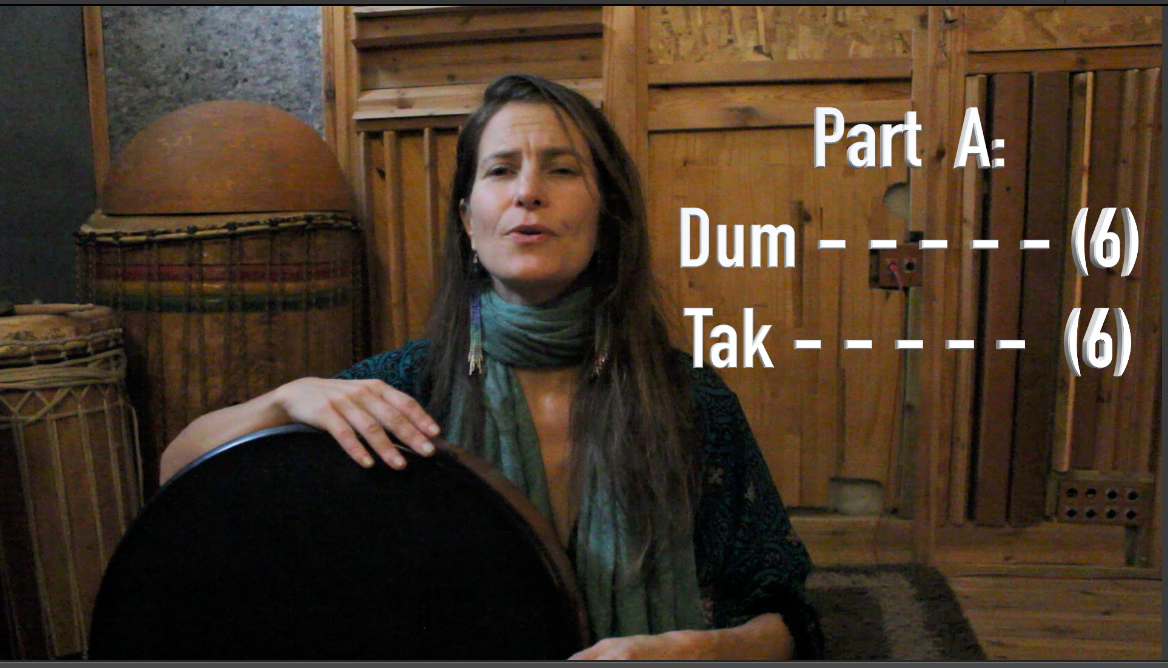 (screenshot from the training, learning part of the Zarafat rhythm)
WHO THIS TRAINING IS FOR?
This training is for BOTH beginner and intermediate level players!

WHAT KIND OF DRUMS ARE APPROPRIATE FOR THIS TRAINING?
Ideally, this training is for frame drums.
Yet, rhythm is rhythm..and you can enjoy this groove on ANY type of hand drum!


WHAT WILL I LEARN IN THIS TRAINING SERIES?
This training series includes 8 Instructional Videos!


Videos #1- #5 Include:

Teach the Basic Zarafat Rhythm, slow to faster tempos
Learn Introduction to some Middle Eastern Drum Strokes and Syllables
Learn how to use the Metronome to practice with! (important skillset!)
Video #6
Learn a Zarafat Variation (intermediate level)
Video #7

Video #8 - Graduation Groove
(this is really cool)
Play along music video to "Longing," a song featured on Marla's debut album
"Longing" features the Zarafat rhythm, so students will be able to immediate apply what they just learned to real music!
HOW DO I VIEW THE VIDEOS?
You can watch videos on our Academy website OR you can download them to your computer.


FUN IS HAPPENING HERE, COME JOIN US!
Experience the magic of drumming here!
See you inside the training!
Love, Marla
---
PS.
ZARAFAT TRAINING BACKSTORY:
I originally recorded this training video as a PERCUSSIVE PERK for my "Rhythms of Tof Miriam" Debut CD Fundraising Campaign that ran in November/December 2019. (est. release date of my debut album is 3/27/20)
It was supposed to be one video training - but turned into a 8-Video training program. (oops!)
I decided to not only offer this to my Donors as a perk, BUT also, include it as one of my Frame Drum Academy programs!
This is a great training program, and I'd love for everyone to experience it, and that means YOU!