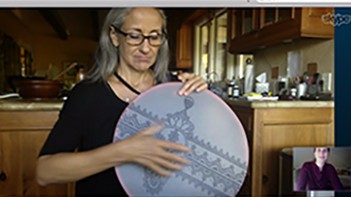 PRIVATE LESSONS VS. PERSONALIZED DRUM TRAINING SESSIONS?
PRIVATE LESSONS:
Desire more one on one attention with your playing?
Marla is a very patient and detailed oriented teacher who tailors each session to meet the students needs. During Marla's Private Lessons, she will answer any drumming questions students have about technique, rhythm and music theory. Lessons are recorded!
---
PERSONALIZED DRUM TRAINING SESSIONS:
Do you feel called to incorporate DRUMMING in your Professional Work & Community?

Wish to truly master your playing Technique and Skills? Develop a LAZER-EYED Solid Foundation?

Have you always wanted to Compose music? Sing and Drum? Record a CD?

Desire to learn how to use Drumming for your own Personal Practices of Meditation and Self-Healing?
If you answered YES to any one of these questions, these training sessions are a great fit for you!
During Marla's "Personalized Drum Training Sessions", students delve deeply into their unique, personal drumming journey!
Marla will create an INDIVIDUALIZED PROGRAM that will facilitate your bringing the art of rhythm to life.

Prior to the first consultation, you will answer a survey that will assist Marla in designing your particular session. Each training session will be specifically tailored to fulfill your particular needs.
The sessions are 90min long, and structured as a two-part series, with homework given to ensure you ACHIEVE YOUR DRUMMING GOALS!
In addition to coaching with frame drum technique, Marla can also help you learn things like: Shamanic Drum Journeying & Technique, Healing Rhythms for Group Facilitation, Drumming & Chanting, Vocal Technique and Frame Drum Sound Healing Techniques.
Great for: Musicians, Students who wish to deepen their playing, Professionals in the Healing Arts, Yoga teachers, Therapists, Sound Healers, Coaches, Counsellors, Spiritual Leaders, Music Teachers, Music Therapists, Sacred Circle and Ceremony leaders who wish to use drumming in their work.
Invest in your Rhythmic Health!
You're worth it!
*These private lessons & sessions will be offered only during the first two weeks of each module. Students will get a sign up form to schedule their time.

COPYRIGHT & PROTECTION POLICY
It is assumed that, in purchasing any of the Frame Drum Programs, either individually or bundled, only one user will be accessing the material. By enrolling in my programs, you are agreeing not to "share" the content.
If it is indeed discovered that the curriculum and teachings are being "shared," that student's access to the program will immediately be terminated.The content that has been created for this program is protected by copyright. Please respect my work. Thank you for your understanding